Strength
Hang Power Clean 1-1-1-1-1-1-1
Conditioning WOD
**4 Rounds for time:
6 Hang Power Clean, 205/125lb
Handstand Push Ups, 12/9 reps
24 Double Unders
**If you break on the Hang Cleans, immediately perform a 5 Burpee penalty. Sub DB strict press (AHAP) for HSPU and sub Parellette overs for DUs. Post strength loads and conditioning WOD times to Comments.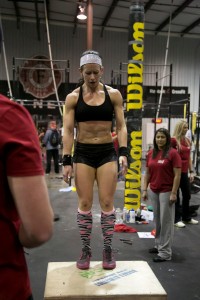 Kara Wallace, pictured here toughing out box jumps during the nastiness that was the final event of the 2013 SWMO CrossFit Couples Challenge.  Her time on today's WOD? 5:31. Smash city! Great job, Kara!!!