Strength
Hang Power Clean 4-4-4-4-4
Conditioning WOD
Against an 18 Minute continuously running clock:
Buy In – 90 Sit Ups
With any remaining time perform AMRAP of:
6 Power Clean, 155/105lb
12 TTB
24 Double Unders
Post strength loads and total rounds achieved to Comments.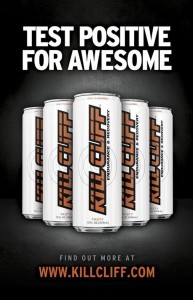 CFS received a fresh shipment of KillCliff yesterday! What is KillCliff you ask? Here's the breakdown:
KillCliff is comprised of 4 ingredient groups- each with the primary objective of improving athletic performance and aiding in recovery:
Anti-Inflammatory
Ginger Extract – reduce inflammation
Milk Thistle – liver-protective and regenerative properties, as well as antioxidant effects
Bromelain – anti-inflammatory agent
Stress relief
Taurine – prevents oxidative stress induced by exercise
Ginseng Root powder – increases the ability of human beings to withstand adverse conditions, increases mental alertness, and improves performance
Circulatory Health
Green Tea Extract – anti-oxidant and removes free radicals from your body
Inositol – helps your circulatory system stay strong and able to pump blood to and from your muscles more efficiently to remove waste from hard physical activity
Caffeine – causes blood vessels to open and let blood flow more freely
Digestive Help
Glucuronolactone – a precursor for ascorbic acid synthesis
Lipase – which breaks down fats in the digestive system
Amylase – which breaks down starches
Protease 4.5 – which helps digest protein
Invertase – which helps break down sugar
Beta-Glucanase – to help break down fiber
Serrazimes – which are digestive enzymes
Best of all, KillCliff only come in one flavor…TASTY. Who doesn't love tasty? Get it in ya!!!