CLICK ON SCHEDULE TO ENLARGE:

 CROSSFIT SPRINGFIELD Group WOD times:
Monday:  5am; 6am; 8am; 9am; 12pm; 4pm; 5pm; 6pm; and 7pm; 7pm  Free Getting Started Class
Tuesday:  5am; 6am; 8am; 9am; 12pm; 4pm; 5pm; 6pm
Wednesday: 5am; 6am; 8am; 9am; 12pm; 4pm; 5pm; 6pm; and 7pm
Thursday:  5am; 6am; 8am; 9am; 12pm; 4pm; 5pm; 6pm
Friday:  5am; 6am; 8am; 9am; 12pm; 4pm; 5pm; 6pm; and 7pm
Saturday:  8am Free Getting Started Class; 9am & 10am
CROSSFIT SPRINGFIELD "NEWBIE" CLASS
New to CrossFit? Come to our free 'Getting Started' class on Monday at 7:00pm and Saturday at 8:00am. We will show you the fundamentals of CrossFit, discuss our training options and regardless of your fitness level, give you a great work out CrossFit style! Come get hooked!
STARTER WOD TIMES (click image below to view):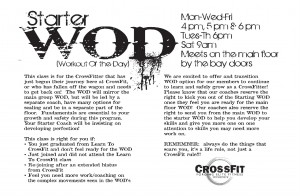 CROSSFIT SPRINGFIELD SUPERVISED CHILDCARE HOURS:
Monday, Tuesday, Wednesday, Thursday, and Friday from 5-7pm
Monday, Wednesday, and Friday from 12pm-1pm
11am SATURDAY HERO WOD
This class will be comprised of Hero WODs programmed and commissioned by CrossFit HQ. The sole purpose of offering this WOD time is to honor America's fallen service members. Captain Matt Brown (above left) and Captain Andy Koch (above right), both CrossFit Level 1 certified coaches and military service members, will lead this class. We will take a few moments prior to the start of each Hero WOD class to brief you on the story behind each of the Heroes.
2 pm SUNDAY GROUP WOD
WODs will be announced each Sunday prior to the start of the class and will tend to be more creative (think games i.e. dodgeball, partner and team WODs, etc).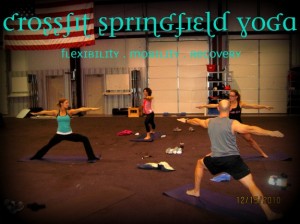 CROSSFIT SPRINGFIELD YOGA
10:15am Mon/Wed/Fri
Instructed by Brooke Martz, this class is now a permanent fixture on our schedule. Even better, CFS Yoga is included with your membership at no additional cost!
CFS RUNNING GROUP/CF ENDURANCE
CrossFit Springfield Running groups are available at various times during the week (see schedule above) for members interested in learning better running form, training for a race, or just improving WOD times. Everyone is welcome from
beginner to advanced. Typically, group runs range in distance from 2-8 miles and include speed work/interval training. Visit the CFS endurance blog HERE.