CLICK ON SCHEDULE TO ENLARGE: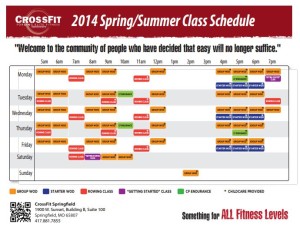 CROSSFIT SPRINGFIELD "NEWBIE" CLASS
New to CrossFit? Come to our free 'Getting Started' class on Monday at 7:00pm and Saturday at 8:00am. We will show you the fundamentals of CrossFit, discuss our training options and regardless of your fitness level, give you a great work out CrossFit style! Come get hooked!
YOGA
Yoga is offered at CrossFit Springfield.  Classes are scheduled weekly based on the instructor's availability.  Classes are $5 cash per class for members and non-members.
Join https://www.facebook.com/#!/groups/1447892405446866/ for the weekly class schedule!