J

essi Grove
Co-Owner, Founder CrossFit Springfield
• My belief is that fitness is a monumental part of health and we are responsible for our own health. At CrossFit Springfield, we are giving our members the opportunity to hold their health in their hands. I played Rugby for the Springfield Women's Rugby team for five years and quickly developed a passion for training hard. I have since been involved with developing and implementing programs at the YMCA for members that were intense and effective. When the opportunity to create CrossFit Springfield presented itself, the idea of taking those programs, theories of training and bringing CrossFit to Springfield fell into place. I have been group training for over 8 years, personal training full time for three years, CrossFitting for over two years and I am CrossFit Level I and CrossFit Olympic Lifting certified. I am also an ER nurse at Cox South, and love every minute of it! I am overwhelmed with the talented trainers that I am able to work with and I am inspired daily by our hard working members that have made CrossFit Springfield a dream come true! My passion is not only fitness and CrossFit, but watching our CrossFit community realize, work for, and achieve goals they never thought possible.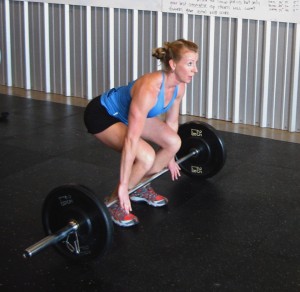 Jeremy Mhire, ATC
Co-Owner, CrossFit Springfield
•  My passion and calling is to partner with my clients and assist them in obtaining their full potential with regard to overall fitness, health, mental and spiritual well-being. I am a Level 1 CrossFit Coach, CrossFit Football Certified Coach, CrossFit Olympic Lifting Coach, Certified Athletic Trainer (ATC), a National Federation of Professional Trainers (NFPT) Certified Personal Trainer, and I have a Bachelor's of Science in Sports Medicine & Athletic Training from Missouri State University. I'm also a aspiring competitive eater and semi-professional pirate talker.

I absolutely love the energy, culture, coaches, and members at CrossFit Springfield! I also love the greater CrossFit community and the camaraderie I've been privileged to experience through competing in our burgeoning sport over the past few years:
2009 CrossFit Games Southwest Regional: 33rd
2010 CrossFit Games Midwestern Sectional: 13th
2010 CrossFit Games North Central Regional: 30th
2011 CrossFit Games Open: 39th of 935 (North Central)
2011 CrossFit Games North Central Regional: 12th
2011 CrossFit Games North Central Regional (Team Coach): 3rd
2011 CrossFit Games World Finals (Team Coach): 34th
2012 St. Louis "Battle For The Cup": 3rd
2012 SWMO CrossFit Couples Challenge: 2nd
2012 CrossFit Games Open: 32nd of 2,558 (North Central)
2012 CrossFit Games North Central Regional: 12th
2012 Ozark Mountain ShredFest: 5th
2013 OC Throwdown: 45th
2013 CrossFit Games Open (North Central) Team CFS: 5th
2013 CrossFit Games North Central Regional, Team CFS: TBD
2013 Raid Games, Orlando, FL (3-Man Team): 1st
Paramount to me in life is my faith in God, followed by my beautiful wife, Jenny, my rock-star CrossFitting 5-year-old son, Vin, and my beautiful baby girl, Emille. I can be contacted at 417.763.2096 or by email at jeremy@crossfit-springfield.com . You can visit my training blog at http://www.proximal-strength.com/  or hit up my facebook page HERE.
Melissa Wistrom
Co-Owner, CrossFit Springfield

From childhood throughout high school I was involved at a competitive level in gymnastics, cheerleading and diving.  I graduated from the University of Missouri-St. Louis with a degree in Business Administration-Management Information Systems.  Immediately after college I became certified through National Academy of Sports Medicine and began personal training.
For a short time after moving to Seattle I worked for the parks and recreation teaching fitness to the 50+ community.  Since returning home to Missouri I have completed the CrossFit Level 1, CrossFit Olympic Lifting, and CrossFit Gymnastics Certifications.  I am committed to using the Crossfit method to teaching functional fitness to all people at all fitness levels.
2010 CrossFit Games OK/NM/AR/N.TX Sectional Qualifier: 21st Place
2010 CrossFit Games South Central Regional Qualifier: 9th Place
2011 Reebok CrossFit Games Open Sectionals: 24th in the North Central
2011 Reebok CrossFit Games North Central Regional: Member of Team CrossFit Springfield, 3rd Place
Grant Wistrom
Co-Owner, CrossFit Springfield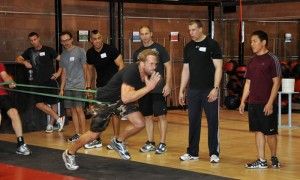 Grant began his football career in Missouri, where he played for the Webb City High School football team, the Cardinals, as a defensive end and tight end. While at Webb City, he was chosen as a first-team All America selection by Super Prep, Blue chip and USA Today. He also earned Top 100 Honors from Scholastic Coach Magazine. Grant also played basketball and competed in track.  His statistics on the football field include:
. As a defensive end: 122 tackles, eight sacks, six fumble recoveries, nine forced fumbles and a blocked punt
. As a tight end: caught 30 passes for 527 yards and five touchdowns and rushed 11 times for 115 yards and three touchdowns
. Led the Webb City to two class 4A championships
Following his All-American performance as a Cardinal, Grant was heavily recruited by the University of Nebraska-Lincoln where he helped anchor the Husker defensive line. During his career, the Huskers compiled a 49-2 record from 1994 to 1997, winning three national titles in that span (1994, 1995, and 1997).
Grant still holds the record at Nebraska for tackles for loss with 58.5 for 260 yards and ranks second with 26.5 sacks. His jersey number 98 was retired during the 1998 season. His career totals include 206 total tackles, 26.5 sacks for 178 yards, one interception, four forced fumbles and one fumble recovery.
Collegiate Honors include:
. College Football Hall of Fame member (2009)
. DE on the All-Time Cornhusker team
. Lombardi Award (1997)
. Bill Willis Award winner (1997)
. Consensus All-American(1996,97)
. All-Big 12 Conference First-Team (1996,97)
. Big 12 Defensive Player of the Year (1996,97)
. Consensus Academic All-America (1996,97)
. Academic All-Big 12 honors (1996,97)
. Third-team all-America honors by Associated Press (1995)
. First-team all-American honors by Associated Press (1996,97)
. All-Big Eight Conference honors (1995)
. Newcomer of the Year by Big Eight conference (1994)
Grant was selected by the St Louis Rams as the sixth overall pick in the 1998 NFL Draft.  Grant spent six seasons, including two Super Bowl appearances, with the St. Louis Rams.  He spent the last three years of his nine year career in Seattle making one Super Bowl appearance with the Seahawks.
After retiring from football Grant completed his Level 1 CrossFit certification, CrossFit Olympic Lifting certification, and his CrossFit Football coaching certification.
"After spending 9 years in the NFL I believed I had been exposed to every type of training to enhance my athletic performance, until I was introduced to CrossFit. I firmly believe that CF can help anyone improve their performance in any arena and also the quality of any person's life. Due to the wear and tear of football, I am thankful for CF. With the diverse range of practical exercises that we perform an a daily basis I have been able to increase my flexibility, range of motion and return to a normal body weight.
Mel Farrales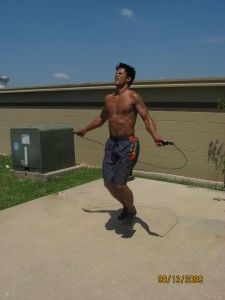 Mel was born in Guam, USA and moved to the continental United States at age 20. Mel has his CrossFit Level 1 Coaching certification and he is an AFAA certified personal trainer.  Having always been active and aware of fitness, Mel trained under Master Tong of the Midwest Mhuy Thai Association and competed as a kickboxer in the WKA from 1990-93. Mel is also a former competitive indoor vollyball player, at one point representing Guam in the South Pacific Games. Mel graduated from St. John's School of Nursing in 2005 and has worked in the St. John's E.R. since then.  Mel and his wife, Jacinda, have 4 children, Rachel, Caleb, Elijah, and Jessi.  If you have interest in personal training or Mhuy Thai/ Kickboxing you can contact Mel at islandpyrorn1967@sbcglobal.net
Chance Potts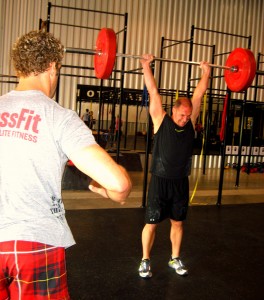 My name is Chance Potts. I am married to Sherry and we have four boys, Tanner (18), Landon (13), Reid (8), and Cross (18 mos). We live in Nixa Missouri. I was born here in Spfld, graduated from Glendale HS. I played college football for Missouri Southern and swam in college for Missouri State University. Graduated from MSU with a B.S. in Ed with an emphasis in exercise physiology. I spent 3 years in the healthcare field assisting in physical therapy and physical training. Since 1995 I have been an employee benefits advisor starting a company, employee benefit design, LLC in 1997. A part of my job includes wellness programming for companies.
I was first introduced to Jeremy and jessi's training through my wife who trained with them before affiliated with crossfit. In February of 09 I decided to get my fitness back and began personal training with Jeremy Mhire. Jeremy is a phenomenal trainer and help me properly learn how to perform and push myself through crossfit and more.
About 3 months into training I started adding group wods to my routine and the drive to survive the wod's went into addiction mode. At about 6 months of crossfit I felt prepared to start pushing myself at a more intense level. In th spring of 2010 I completed my level 1 and football certifications and have been leading classes at crossfit since.
I have a deep passion for helping people, especially those
experiencing life challenges and who want to help themselves and others. I am very thankful that this i something my wife (and our boys) and i enjoy together. I am thankful for the trainers and members who inspire me to always grow. "consider it joy to have perseved", James 1:2-4
Jen Cochran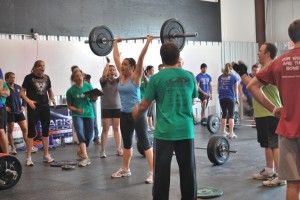 After growing up in St. Charles, Missouri, I relocated to Springfield to attend (then) SMSU, where I obtained a bachelor's degree in Psychology. I later switched my focus to Nursing, and am now an RN in the ER at Cox South, where I have worked for 14 years. Growing up, I trained as a dancer at The Performing Arts Centre in St. Charles for 15 years, and performed as a principal dancer with The Dance Company of St. Charles during that time. I now reside in Ozark with my husband, Erik, and son, Cameron—both of whom I love and adore with my whole being.
My philosophy for a full and honorable life is to love God, love my family, maintain my health and fitness, and to give my personal best to all that I do. I have been a CrossFitter for nearly four years now, and it has changed my life. I was asked to be a coach here in 2010, and have since completed the CrossFit Level I Coaching, and CrossFit Olympic Lifting Certification courses. I am so honored for the opportunity to now share my passion and love for this lifestyle with others who are seeking to achieve an optimal level of health and fitness. I am a firm believer that nutrition is the key to maintaining a healthy balance of strength, focus, and function. I would be happy to share my experiences and the knowledge that I have gained regarding nutrition, particulary the Zone and Paleo lifestyles–just ask!
My favorite thing about CrossFit-Springfield is the comraderie and energy you will find here–unique to anywhere I have ever been. Whether you're a novice CrossFitter, or an elite athlete–you belong here.

Cindi Little, CFS Rowing Instructor

I am Cindi Little. I am married to Rex Little. We raised six children and currently have 11 grandchildren. I have a vocational education degree from Missouri State University. I have my level one CrossFit certification. I have been involved with CrossFit over 2 years. My emphasis is Cross Fit Rowing. I believe your physical fitness is the key to a better, longer, and healthier life. There is a difference between living and thriving. CrossFit fosters the ability to thrive in life. You reach new physical goals continuously and find you have more inside you than you might have expected from yourself. My goal is to help you have optimum health the CrossFit way. I have set high goals for myself and been blessed to reached them. I have qualified and participated in the 2011 CrossFit games, Master's Division and also the 2012 CrossFit games. I give God the glory for all I have and will have. He is supreme in my life!
2011 Reebok CrossFit Games Open: 5th Overall in the Masters Women 55-59 Division
2011 Reebok CrossFit Games World Finals: 12th Overall in Masters Women 55-59 Division
2012 Reebok CrossFit Games World Finals: 18th Overall in Masters Women 55-59 Division
Mary Rogers
I'm originally from Fort Worth, Texas, but I've been here in the Springfield area for about 16 years. My husband Patrick and I have been married for nine years, and we welcomed our beautiful son Solomon in December of 2012.
I don't have a particularly strong athletic background; I played volleyball and softball in high school, but I didn't start working out seriously until college. I became a pretty serious runner about three years after I graduated; I ran a few races over the span of a couple years before burning out and slowing way down. It was right about that time that I was introduced to Crossfit. I fell in love after the first WOD, and it's been nothing short of life-changing.
I am a huge believer in whole body health – water, clean foods, and above all allowing the body to do what it was built to do: work. It's a beautiful, amazing thing to see the energy that's expended at Crossfit Springfield every day – people pushing themselves to their own personal limits and then going beyond that to set new goals that they'll exceed the next day. I love watching each personal triumph – seeing someone do what they really thought they couldn't. I feel so lucky and blessed to be able to come to Crossfit Springfield every day and spend time with so many truly incredible people.
Captain Andy Koch
Originally from the beautiful state of Colorado, I have always led an active lifestyle, and love the feeling of adrenaline coursing through my veins!  (Probably the reason I love CrossFit so much!)  I graduated from the University of Colorado in Boulder with degrees in both snowboarding and mountain climbing (not really, but that would be pretty cool), and was commissioned as a Second Lieutenant in the United States Marine Corps shortly thereafter.  As a Marine, I have had the opportunity to travel around the world, and have spent a substantial amount of time in the Middle East.  For me, CrossFit is able to produce a tangible feeling of euphoria and alertness that has only been replicated while in combat zones, and it is a wonderful feeling that keeps me coming back for more!
I am married to an amazing woman, Elizabeth, who is not only the mother of our beautiful daughter, Olivia, but also happens to be a certified, Grade-A, BADA**!  I have her to thank for introducing me to CrossFit while we were living in Japan, and for continuously pushing me to work harder.
We have had the opportunity to visit a number of other CrossFit "Boxes" around the world, and I can say without a moment of hesitation that the staff and members of CrossFit Springfield surpass all the others.  I have yet to visit a facility that has such a sense of closeness amongst its members and staff, which is why it is such an honor for us to join the family here.  As a CrossFit Level 1 Coach, I will do my best to always try and push you farther than you think you are capable of going, and to help you with meeting and exceeding your goals.  I look forward to working with all of you, and always feel free to contact me by e-mail at Andrew.w.koch@gmail.com, or by phone at 816-665-2207.  Semper Fidelis!
2011 "Battle For The Cup" at CrossFit TNT: 1st Place
2011 Reebok CrossFit Games Open: 14th in the North Central
2011 Reebok CrossFit Games North Central Regional: Member of Team CrossFit Springfield, 3rd Place (qualified for 2011 CrossFit Games)
2012 "Battle For The Cup" at CrossFit TNT: 1st Place
2012 Reebok CrossFit Games Open: 5th Place of 2,558 (North Central Region)
2012 Reebok CrossFit Games North Central Regional: 5th Place
Kristy Taylor, CFS Rowing & Running Group Instructor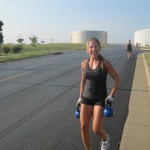 First off, I was a fat kid.  I learned early on that I needed exercise and have always had a passion for it.  Secondly, "You're going to be a furniture mover someday!"  was all I ever heard growing up.  Apparently, I liked moving heavy objects around.  So, it's no surprise, when I discovered CrossFit last year, I was instantly hooked on the idea of functional movements…if only to move my couch..100 meters…for time.

I am a Springfield native.  I played every sport at Willard High School, including volleyball, and went on to play and coach volleyball with USVBA.  I have a degree in Marketing and Advertising from MSU as well as the CrossFit Endurance Certification and the CrossFit Level 1 Certification. I am an avid runner and race often.  I lead running groups at CrossFit that help runners of all levels get excited about running, as well as teach CrossFit rowing classes.  Plus, I teach Cross-Fit Kids and hold a special place in my heart for helping kids develop positive self-esteem and to be strong little athletes.  I have two awesome boys, Ethan 9, and Christian, 6.  Oh, and I am an encourager.  I will be the one cheering for you during the next WOD.

Jake Woolfenden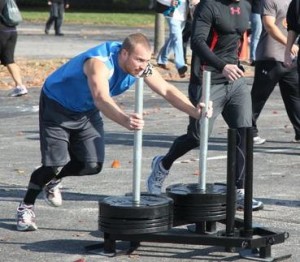 Background
Originally from the Washington DC area, I've lived in Springfield for the past 17 years. I graduated from Rogersville HS and played football at Evangel University. I have a BA in Biblical Studies & Philosophy, an MA in Clinical Counseling and hold a clinical licensure with the state. I have a passion for helping individuals & families achieve their life goals and have been blessed with the opportunity to do this for several years now. I currently serve as an operations manager/field safety manager for a steel company based out of Indiana. The job requires a substantial amount of travel and as a result of "my heart growing fond while away"…my wife Liz and I have 3 beautiful little ankle-biters: Sophie (4), Luke (2) & Ellie (>1). Nothing better!
My Fitness Journey
After football I stopped caring about lifting or the typical gym routine. I was done with the "hey dude, what are you pushing out on your 1 rep bench max" and "hit more isolated arm curls" conversations. So I bought a bike, a drawer full of spandex and started training for triathlons. Since my "Clydesdale Division" body never afforded me the opportunity to be truly competitive, I started looking for something more. I found it when I began attending Jessi's early morning classes at our local YMCA. Although I was in pretty decent shape, I can always remember leaving those classes feeling completely crushed and thinking "who is this chick with these evil workouts." And so after Jessi left the Y to start this beautiful monster we now know and love, and several months of stealing Jeremy's programming from the website, I officially joined Crossfit-Springfield. I've been hooked ever since.
Coaching Goals
Crossfit is about attaining a high level of functional fitness that can be practically applied  to everyday life. As our members know, Crossfit offers the most quality aspects of fitness but also provides disciplines that go well beyond the physical realm. The daily opportunity to push ourselves beyond perceived limits, learning to never quit, encouraging our teammates, striving to be disciplined, etc are all principles that can be intentionally applied to our relationships, careers, and greater community outside of "the box."  My primary goal as a coach is to see people grow in Crossfit that they might  succeed in the everyday aspects of their life, including both health and well-being. I can be contacted at 417-860-0866 or JakeLPC@yahoo.com
Brooklin Martz, CFS Yoga Instructor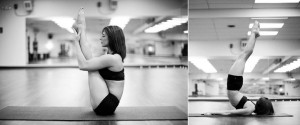 Health and fitness always has been my passion in life.  From a young age I realized that stretching and exercising not only made me look and feel better, it also made me a more balanced person.  Throughout high school and college I participated in competitive cheerleading to stay in shape.  After graduating from Drury University I began running and weight training. Throughout those years, I always enjoyed lifting and loved the results of running – but I always felt something was missing.
As a teenager and young adult, I knew nothing about yoga, but I did know that stretching sped up my recovery time, made me feel more relaxed and allowed me to sleep better. In early 2009 I had my first child and it was at this time when I began looking for something different to help me get back into my workout routine.  This is when I discovered hot yoga.
After just one week I was addicted; it made me feel euphoric.  After practicing for only one month I decided to get certified, I wanted to share with others the same euphoric feeling I had after each yoga class. I spent one month training in Arizona under Sumit Banerjee (Bikram Choudhury's nephew). Immediately after training I began teaching and practicing hot yoga daily, but I could not get enough. To further satisfy my addiction to yoga I began taking other yoga classes. I practiced as many different types of yoga as possible and attended a variety of yoga workshops. Exploring new yoga studios and styles opened up many doors. I now work at a variety of studios and gyms teaching several different yoga styles. To even further expand my love of fitness to others, I have completed training to teach Barre/Pilates and TRX, a plyometric workout designed by Navy Seals to increase the physical fitness and strength of the brave men and women active in our military.
I strongly believe, and it is my passion, that working out is a large part of our overall mental and physical health. That is why I love to workout, stay active and inspire others to practice healthy, active lifestyles. Now, it is my mission to share that passion with others. Join me at CFS every Monday, Wednesday, and Friday at 10:15am for some post-WOD yoga! Hope to see you there!
Meggin Kremer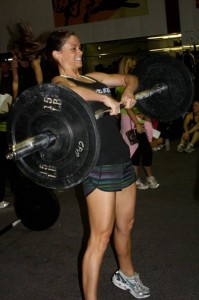 I have lived in the Springfield area for most of my life, and graduated from Missouri State University in 2008 with a degree in Technical Writing and Global Studies. I am a certified personal trainer with the National Strength and Conditioning Association, a Crossfit Level 1 Coach and an Olympic Lifting Coach. I have been an athlete all my life, and after developing a serious addiction to Crossfit-Springfield over 3 years ago I decided to turn my love for fitness into a career. I love to work hard. I love to challenge my body and test my mental and physical limits, and I share this passion with Crossfit-Springfield members and clients.
My primary aim as a coach is to help people break through barriers and achieve goals they once thought to be impossible. As a female, I understand how intimidating it can be to embark on a new fitness journey. According to mainstream society, women aren't supposed to be strong. We aren't supposed to have muscles, calloused hands, or scars. We aren't supposed to keep up with the guys in a workout. In the Crossfit community, none of these preconceived notions exist. Crossfit teaches us to embrace the unknown and unknowable, while society has taught us to fear it. This isn't your average gym. The members and coaches of Crossfit-Springfield have fostered an environment that is incredibly supportive and comfortable, no matter what your fitness level or goals may be. This is my family. This is a community of people who come in every day even though they might be terrified of the workout. They come in and push themselves to their inherent limits, and then they keep going. I get to witness this hard work and determination every single day, and it has made me a better person and continues to make me a better coach.
Feel free to contact me via email (meg72985@gmail.com) or phone (417.343.7789).
Matt Brown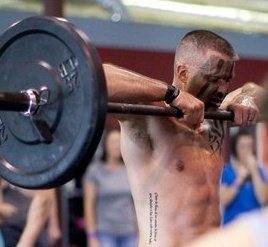 "
I have lived in Springfield for over 25 years and call this city home.  I am married to Kelly (who makes most men look like little women) and have 3 children, Bailey, Evan and Mallory.  I am currently employed by the Springfield Police Department and have worked there for almost 12 years in many capacities.  I have been in the US Army for 16 years and am currently a company commander of the 294th Combat Engineers.  I have been involved in many sports throughout high school and involved in fitness at every level over the years.  It started in high school where I was primarily a swimmer, but also played soccer and basketball.  After high school I joined the Army and my thought process on fitness changed dramatically.  The Army taught me to push beyond normal limits but was always a little limited in the types of exercise we did – push ups, sit ups, run….rinse and repeat!  12 years ago I joined the SPD and was again challenged in my level of fitness, and spent many months getting in good shape to be a police officer.  I always felt like I was missing something and that feeling took me to many "experiments" in fitness where I tried as many new things to see how they fit.  Between the life of a civillian, the job of a police officer or the duty of a soldier, I've tried just about everything!
I was introduced to Crossfit through a friend here in Springfield who told me this new trainer was handing his a$$ to him everyday and invited me to go.  I still laugh at the words I said when I told him, "no thanks man, I do P90X"!  After calling me many names relating to female body parts, I agreed to show and met Jeremy Mhire for the first time who took me through 8 ball to prove to me that I wasn't all that!  After the first day, I was hooked.  I've been coming back every day since 2008.  While deployed in Afghanistan, I was lucky enough to be selected to go through the Level 1 Cert hosted by the US Army and was hired as a trainer when I got back from Afghanistan shortly thereafter.  I can tell you without a doubt that Crossfit Springfield is the most unique environment that you'll ever have the honor of stepping into.  We're a family here and those that see that realize how incredible this place is, due in large part to our great owners; Jessi, Jeremy, Grant and Melissa.
As a coach, I promise you with every WOD, I will not allow you to cheat yourself and will push you to your limits so you can look back on every workout and feel like you've accomplished something, but more importantly – you'll know the truth behind learning to never quit.  Feel free to contact me at any time at 
mjb388s@yahoo.com
 or (417)425-5990."
Natosha Willhite, CFS Coach & Licensed Massage Therapist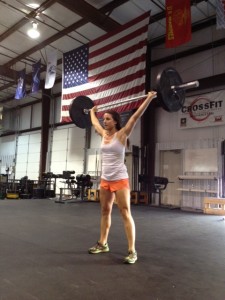 A little bit about my background. I grew up competing in a variety of sports from grade school through high school. Since that time I've been involved in some recreational sports but had to move that passion and focus more to fitness. I actually felt lost when I was no longer "an athlete" and thought the closest thing was to run and workout at the gym. I struggled with a negative image of myself and lacked confidence. I began to seek information on preventative health. During that time I decided to incorporate my interest with my long term goals as far as a career path. I worked as a Physical Therapy Technician, a Chiropractic Assistant, I obtained my massage therapy education and license while attending college. I graduated from Missouri State with a Bachelors degree in Recreation with an emphasis in Health and Wellness Promotion. During that time I worked for the YMCA as a massage therapist and fitness instructor under the guidance of none other than Jessi Grove. After graduating I moved into a full-time Directors position as a Sports Programer for about 4 years. Jen Mitchell and Jessi both encouraged me to get involved with CrossFit. I began CrossFit in June and quickly realized I was in love! I'm an athlete again, I push myself, I compete, and I'm part of a team. I love the community and the environment it creates to encourage others while also competing and pushing each other. I get excited watching people at all levels test themselves physically and mentally, and grow through that. I'm so excited to learn more and be a part of what is happening at CrossFit Springfield.
3,2,1…GO!
Sports Massage available at CrossFit Springfield by Appointment
417.849.1377
Pricing
$15/ 20 minutes
$30/ 30 minutes
$45/ 45 minutes
Kristin Anderson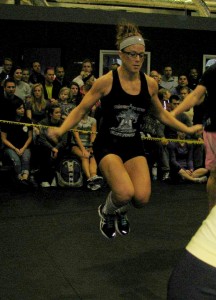 My name is Kristin, but many know me by my Crossfit stage-name, "Kevin." I've been coaching at CFS for over a year and I have thoroughly enjoyed giving back to the place that took me from a stay-at-home mom of 3 (who hated to ever break a sweat), to a member of the 2011 CFS Games Team. I've learned some valuable things about myself that I never thought possible, like realizing that I could still be a competitive athlete in my mid-30′s. It's been a blessing to give back to CFS as a coach and particularly as a coach to the new members in our Learn to Crossfit Classes. I love to watch people grow and see them realize a potential they never knew existed for themselves. I'm thankful I get to witness this frequently! Contact me if I can help you with anything! Dkhadanderson@gmail.com
2011 Reebok CrossFit Games North Central Regional: Member of Team CrossFit Springfield, 3rd Place (qualified for 2011 CrossFit Games)
Joe Combs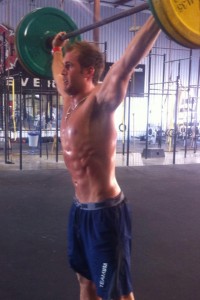 My name is Joe Combs and I first got involved with CrossFit, when Co-Owner Grant Wistrom spoke at one of my CODP youth camps three years ago, and since then I've been hooked. My earliest child hood memories were fun athletic events,  and fun unstructured play. I believe that even my first memories have shaped me into the coach that I am today; "fun" being the key word. I coach/direct the Community Olympic Development Program (CODP) for Ice Hockey, here in Springfield Missouri. We are a program of the United States Olympic Committee and my official title is, " Youth Ice Hockey Development Specialist" for the Midwest region. Coaching at the National level has made realize two things in my travels. First, made me an extreme advocate of everyone taking coaching/parent education programs. And second, it has opened my eyes to how special the CrossFit community in Springfield really is. My extensive hockey background can trace back over 18 years from starting as a youth, and excelling all the way up to the professional levels. I participated in almost every sport as child. I now understand that first becoming a well-rounded athlete, helped me to becoming an exceptional hockey player. This is why I am the biggest supporter of CrossFit programming, and its focus on developing a strong base foundation for its athletes to build and grow upon. it's a blessing to be a part of a community that's  at the forefront of setting a new standard for shaping healthier, more functional, lives! I get no greater feeling than knowing that I have had an impact in someone's life by helping them achieve a goal; in life, or in sports! With a positive attitude, proper diet, (some sweet dance moves), and willingness to have fun working hard, there is nothing you can't do in life! (I need to make an email.com) (417-459-1977)
Alissa Myers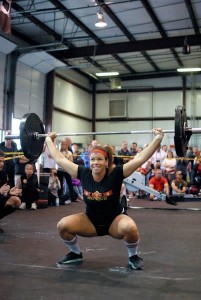 I am originally from Lees Summit, MO, but have lived in Springfield for the majority of my life. I graduated from Springfield Catholic High School in 2007 where I played volleyball and danced competitively for Danceworks Performing Arts Academy. Following high school I attended Missouri State University majoring in Exercise and Movement Science. It wasn't until October 2010 that I received my first butt-kicking from a very pregnant Jessi Grove, and I immediately knew I wanted more of it. I started my internship with Crossfit-Springfield in November 2010 and haven't looked back since. Even as an athlete all throughout school, I had never pushed myself to the limit like I do now every time I walk in through the doors of Crossfit-Springfield. I hope to make a difference to our members like other coaches have done for me. I am now a graduate of Missouri State with a B.S. in Exercise and Movement Science, a minor in Nutrition, and am also an NSCA Certified Strength and Conditioning Specialist.
Kara Wallace-Racz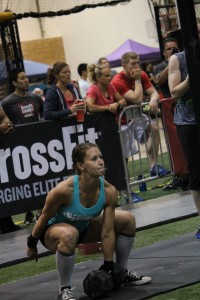 I don't have a very strong athletic background. Throughout school I was involved in cheerleading and a competitive dance team. But, I hated the mile run in P.E.

I've lived in Springfield,MO my whole life. I'm married to Matt Racz and we are raising 2 boys Gavin (10) and Malakai (7). I work at Mercy hospital as a Sleep Polysomnographer and have been employed with St John's/Mercy since '99. My job at the sleep lab constantly exposes me to the troubles of obesity and poor lifestyle habits. I am grateful that my choices became important to me after the birth of my first son and grateful for the tools God has placed in my life.
My fitness journey did not really begin until about 6 years ago. I tried out and became certified in a Les Mills program called Body Jam. A 60 minute dance class that included all different types and styles of dance. This took me totally out of my comfort zone and while I wasn't looking it developed a deep love and passion for my own fitness journey and lifestyle as well as for helping others with theirs. One year into teaching Jam I had the opportunity to train and become certified in Body Pump. This program was my first introduction to any kind of weight lifting. I was instantly hooked! It was like the muscles in my body were woken up to seek out their full potential and I'm still loving every step in this journey. I am also certified in Body Attack-a high energy, sports inspired workout that builds strength and stamina.
I was introduced Crossfit by my friend, Cherell. I started training with her and Jeremy 2 years ago in preparation for a Figure/Body Building show. Little did I know that it would turn into such a love, drive, and passion in my life. My husband doesn't crossfit but still shares, supports, and helps with me and my journey. My kids don't question whether we are going to crossfit, but when. I believe that this love is real. I am now a die hard wod dog and I love competition seasons! I'm so very thankful for what crossfit has taught and given me. I look forward to getting my level 1 certification in September. I am completely thrilled about the opportunity to coach at Crossfit Springfield!
2011 Reebok CrossFit Games North Central Regional: Member of Team CrossFit Springfield, 3rd Place (qualified for 2011 CrossFit Games)
2012 CrossFit Games Open, North Central Region, 37th Place
2012 CrossFit Games North Central Regional, 23rd Place
Kathy Metz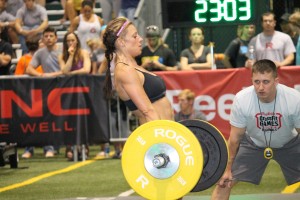 My name is Kathy Metz. I am a Navy brat and originally from New Jersey. I am married, have 2 girls and 3 stepchildren. We have quite the brood, along with 3 dogs, cows and chickens!   How I ended in Missouri is a long story, but in the end I'm very glad to be here, because I would not have all the wonderful people in my life that I do. I miss my family tremendously, but I whole heartedly believe in things happening for a reason.
I have always worked out. i did weightlifting in high school, did the videos "buns of steel" at home, and after my two girls, lost the baby weight to Richard Simmons "sweating to the oldies!" oh yes, I've done it all.  I worked at Ozark dodge for 16 years in the accounting dept, and part timed group fitness classes. I love working out, I feel lucky in the fact that I don't see it as a chore or a "have to". I truly love it! And I realized when I talked to people about fitness I would speed up my words, smile, get excited, and have so much to say! I was introduced to CrossFit Springfield in '09, and haven't looked back since, nor has there been 3 days in a row, I would guess, that I haven't been in. so when the dealership closed its doors, I decided this would be a fine opportunity to try something different. I started personally training instead of going back to a desk job, and quickly realized it was the right move.
I am so excited to be allowed the opportunity to help people achieve their goals and dreams, whatever that may be, when they step inside the doors. I can't begin to describe in words what this place has brought to my life. To be brought to the edge of insanity, breathe fire, have people insist you don't stop, and then you don't stop because of them, laugh when it's over, and come back the next day? Oh yes I will!! and I hope to bring the same joy to others, for people to realize what they are capable of that they never thought possible, to move easier, have more energy, lift more than they thought, do endurance styles quicker than they thought, whatever it is, it is an honor to help in any way I can!
2012 CrossFit Games Open, North Central Region, 54th Place
2012 CrossFit Games North Central Regional: Member of Team CrossFit Springfield, 28th Place
Allison Muller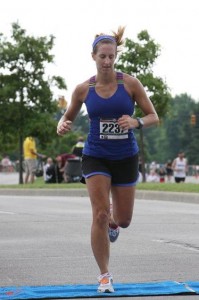 I have lived in Springfield my entire life. I attended the University of Missouri and received my Bachelor's degree in Human Resource Management. I am so grateful to have amazing parents who involved my sister (Sarah, an avid runner), brother (Stephen, a frequent Crossfitter), and me in sports for as long as I can remember. They also taught us the importance of nutrition. My dad had a huge garden, which generated most of our meals so sweets and junk food were never around. (I do blame them for my horrible sweet tooth developed in adulthood, however.) I am also fortunate to be inspired every day by my best friend and soul mate, Adam, who has completed 30 marathons in the last 2 ½ years in his quest to run a marathon in all 50 states.
I discovered group fitness classes when I was told after my third knee surgery that I had to find a new form of exercise outside of running. I have been a group fitness instructor for over 10 years, and received my Group Fitness Certification as well as my Personal Training Certification through the American Council of Exercise. I discovered my true passion came from helping individuals who wanted to improve their quality of life through improved health. Nothing has been more rewarding to me than watching others develop a belief in themselves that they have not had previously through working out.
After being introduced to Crossfit, I discovered workouts that challenged me like never before. I also began running again! I became addicted to Crossfit, not only to the workouts but also to something bigger: the community of support! Crossfit Springfield has introduced me to some of the most genuine, good, positive, inspiring individuals I have ever known, starting with the phenomenal owners, Jeremy, Jessi, Grant, and Melissa.
I recently completed my Crossfit Level 1 Certification. I feel blessed and honored to have the opportunity to coach and motivate others to believe in themselves and find positive results they did not imagine they were capable of. After all, sometimes it takes another person believing in you, more than you believe in yourself.
Elizabeth Koch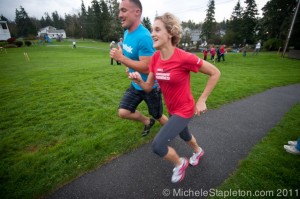 "Run so as to win…"
1 Cor 9:24
My entire life I have strived to be an "athlete", but was never particularly strong in any single sport. I loved participating, but just couldn't seem to make the basketball team or be picked to play volleyball in gym class, so I settled on running and swimming at an early age. I used to tell people, "I don't do sports that require skill or talent…I run long distances!" I have been a runner for all my life, which I mistakenly believed required little strength, skill or coordination. I was introduced to Crossfit while living in Japan 3 years ago at Crossfit Asia, and it has been a complete game-changer for me. I feel much more athletic, strong, coordinated and most importantly confident now. I have my first many great coaches in the past three years to thank for setting me up for success by teaching me good form and proper scaling, and I hope to pass those principles along to the athletes I work with. I am a Level 1 CF coach and certified CF Endurance coach. I continue to run and participate in endurance sports including long distance running and triathlons but I am now that athlete that I always wanted to be, just stronger, faster, and more competitive.
I am usually the last person finished with the WOD and I don't have a problem with that because I believe in quality reps and pushing your self to finish strong. I am married to my high school sweetheart, Andy, and we have the world's most wonderful little girl Olivia, who will be a big sister this December! I have grown up all over the place but call Colorado home. I graduated from the University of Northern Colorado with a bachelors in nursing and I work part time at Mercy St John's in the neuro/trauma ICU.
Alongside CFE coaches Kristy Taylor and Chad Brinkley, I run the Crossfit Endurance program. I also teach the Monday night Newbie class, coach at CF Springfield East and help run thenakedplate.org with Melissa Wistrom. I have a passion for nutrition and believe strongly in peoples abilities to better themselves through FIRST quality nutrition and second quality training.
My goals as a coach at CFS are to push people to achieve their goals but also show them how strong they truly are when they push themselves. You will hear me say every Monday night to my newbie crew, "What ever your reason for walking through our doors tonight is (i.e. losing weight, gaining strength, training for sports), you will achieve it in here if you put in the work; BUT, what you will achieve mentally will far surpass that". I hope to make a difference in peoples' lives by showing them how great they can be! It is such an honor to be a part of the Crossfit Springfield team of coaches and I will continue to uphold the high standards of Crossfit in all my coaching. If you have any questions about endurance, nutrition or CF in general please don't hesitate to contact me at ek311@me.com.
Elizabeth Koch
ek311@mac.com
Chad Brinkley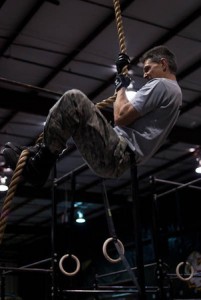 Who am I?
My name is Chad Brinkley. I graduated from the University of Illinois with degrees in Business Administration and Psychology. I went on to attend graduate school and completed my Ph.D. in clinical psychology at the University of Wisconsin-Madison. I moved to Springfield in 2005 for work. I am currently employed as a clinical psychologist for the Federal Prison System. I am married to a phenomenal woman named Laura who is surprisingly tolerant of my crazy training schedule. We have no children (unless you count our mini-schnauzer – Schatz), which is probably why I am able to spend so much time at Crossfit Springfield.
Fitness Background
As a kid, I was generally inactive and overweight. I started running in high school in order to slim down and get healthy. My first experience with competitive sports was with high school track and cross country. I played rugby in college (albeit not very well). After college, I went back to running primarily as a means of staying fit. I began entering endurance events in 2007 (marathons, half marathons, and triathlons). As a correctional worker, I felt the need to develop strength as well as endurance in order to be prepared for whatever unknown challenges work might throw at me. For years, athletic trainers told me it was not possible to be both physically strong and build the stamina needed for endurance sports. In 2011, I discovered Crossfit and it has been a life changing experience. For the first time, I have been able to improve my strength, speed, and endurance simultaneously. I have learned the power of training with constantly varied movements at high intensity. I have also learned first hand about the utility of functional fitness. I utilize the skills and abilities I am developing in Crossfit on a daily basis at home, work, and in competition.
Coaching Philosophy
I have never been an athlete who was blessed with much natural talent. Every gain I have made in fitness has come through learning good technique and putting in hard work. As such, I believe very strongly that people can accomplish almost anything by keeping an open mind, learning what they need to know, being willing to make themselves uncomfortable, and deciding that they simply will not quit. One of my goals while coaching is to help people remain positive and strive to surpass whatever limitations they have previously placed on themselves. I believe in celebrating the personal accomplishments of athletes of all ability levels – everything from accomplishing the first RX push up or pull up to qualifying for the Crossfit games. I also encourage athletes to prioritize learning good form so they will be efficient and can progress in Crossfit without risking injury. I constantly strive to increase my knowledge of fitness so I can use that knowledge to help other athletes achieve their personal fitness goals. I have completed the Crossfit Level One seminar as well as seminars for Olympic Weightlifting, Crossfit Endurance, Mobility, and Coaching. In my spare time I try to read articles on fitness training, nutrition, mobility, and sports psychology. I typically coach the Crossfit Endurance WODs on Monday and Thursday evenings, but don't be surprised if I suddenly appear during one of the other WODs to offer you encouragement or advice!
Jen & Macy Mitchell

Jen
Originally from Bonesteel, SD where she grew up with three brothers and sisters on a dairy farm. She graduated from Evangle Unitversity in 2005 with a degree in Social Work. Jennifer's passion for sports, fitness, and nurtrition led her to earn a National Certification in Personal Training, while currently working on her Master's of Science in Holistic Nutrition. Jennifer is married to the love of her life, Macy Mitchell. Jen's favorite quote:  "This too shall pass…" Because when you are continually pushing your body to the next level, it is a good reminder that the pain is temporary!
Macy
I am originally from Oklahoma, but now reside in Springfield, MO where I met my lovely wife Jennifer, while attending Evangel University.  I graduated from Evangel with a Bachelor's of Science in Psychology and a Minor in Biology in 2005. With a deep history in athletics, I funded my college education with a Track & Field scholarship, in which I won the National Championship in the 400 Meter Dash in 2003, as a sophomore.  While qualifying for all 8 National Championship Meets (indoor & outdoor) during 4 years of college, I had pursued the medical field, as well as made a stake within our family business, where I am employed now.   I have my National Personal Training Certification, and am interested in Nutrition, so I can coach friends, family, and clients on daily health & fitness.
Being self motivated in fitness, almost to a fault, I have always searched for a radical fitness program.  Crossfit has become a new and enjoyable challenge, where I feel I can be used not only for my fitness addiction, but to motivate others to achieve their goals.
2011 Reebok CrossFit Games Open: 5th in the North Central
2011 Reebok CrossFit Games North Central Regional: Member of Team CrossFit Springfield, 3rd Place
Steve Boehmer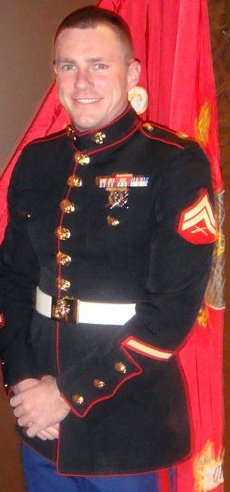 I am originally from Lee's Summit, MO (Kansas City Area, GO ROYALS!) I served in the United States Marine Corps from 2001 to 2007. Activated for Operation Iraqi Freedom in 2003 when I served one tour in Iraq as a Nuclear, Biological, and Chemical Defense Specialist. I moved to Springfield in May of 2004 to attend Missouri State University. I graduated from Missouri State University in May of 2007. I have been a police officer with the Springfield Police Department since May of 2007. I served on the Special Response Team (A.K.A SWAT team) with the Police Department for two years. I have been blessed to have been many places, met many great friends, and had great life experiences. I know that being a coach for Crossfit Springfield will be another great experience and I will meet many more great people.
Crossfit has definitely made my life better and I have seen huge changes in my physical fitness. It helps me with my position as a police officer and I don't believe there is a better program to prepare you physically. I have also wanted to be a coach or trainer in some way ever since I was in High School. There is nothing better than helping people achieve their goals and better their lives. I get my motivation from watching people achieve goals they never thought they could achieve. I enjoy watching the positive changes that happen so fast when people start coming to Crossit.