View Public Whiteboard on WODIFY
Metcon (Time)
"Boston STRONG"
4 Rounds for Time:
Run 1200 Meters
4 Pistol Squats (L/R = 1)
15 Stationary Overhead Lunges (45/25)
18 Burpee Pull Ups
26 Box Jumps (24"/20"; Game Standard)
2 Manmakers (40/25)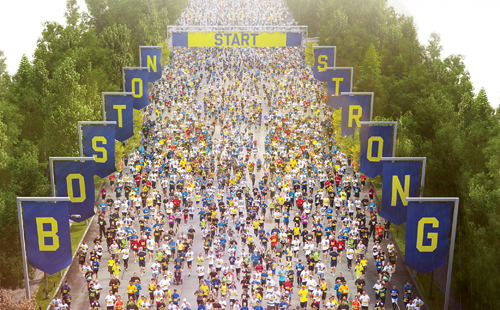 During the Boston Marathon on April 15, 2013, two pressure cooker bombs exploded at 2:49 p.m. EDT (18:49 UTC), killing 3 people and injuring 264.[2] The bombs exploded about 13 seconds and 210 yards (190 m) apart, near the finish line on Boylston Street.[6][7] The Federal Bureau of Investigation (FBI) took over the investigation, and released photographs and a video of two suspects on April 18.[8] [9][10] The suspects were identified later that day as brothers Dzhokhar and Tamerlan Tsarnaev.
Shortly after the FBI released the images, the suspects allegedly killed an MIT police officer, carjacked an SUV, and exchanged
gunfire with the police in Watertown, Massachusetts. During the exchange, an MBTA police officer was critically injured, Tamerlan Tsarnaev was killed, and Dzhokhar Tsarnaev was injured and escaped.
An unprecedented manhunt ensued, with thousands of police searching a 20-block area of Watertown.[11] On April 19, the authorities asked residents of Watertown and surrounding areas, including Boston, to stay indoors, and the public transportation system and most businesses and public institutions were shut down, resulting in a deserted urban environment of historic size and duration.[12][13] Around 7 p.m., shortly after the "shelter-in-place" order had been lifted, a Watertown resident helped police find the suspect in back of his house. Dzhokhar was arrested and taken to a hospital shortly thereafter.