Strength
You have 15 Minutes to Establish a 2RM tap-and-go snatch. Snatch may be performed as Split, Power, or Full.
Conditioning WOD
Set the clock for 12 minutes and let it run continuously.
Perform 6 Minutes AMRAP:
6 Hang Power Snatch, 115/75lb
12 Ring Push Ups
Then, immediately go into…
6 Minutes AMRAP:
12 Snatch Grip Deadlift, 115/75lb
6 Hand-Release Bar-Facing Burpees
Post strength loads and conditioning WOD total rounds performed to Comments.
The 2013 CrossFit Games Open at CrossFit Springfield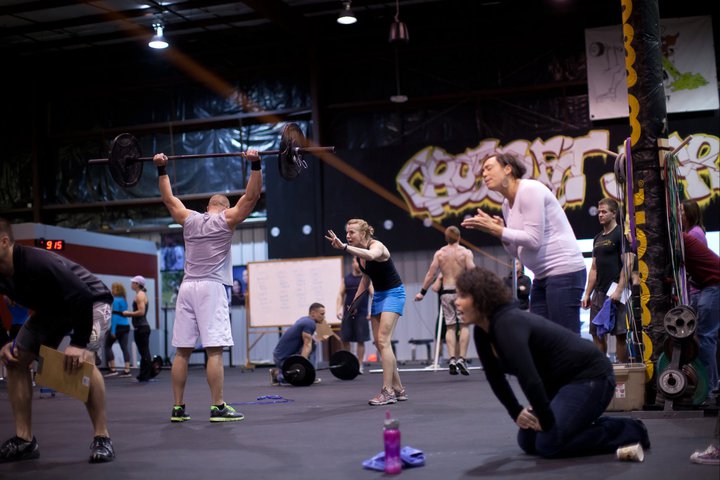 The CrossFit Games begins with the "Worldwide Open" which is 5 WODS over the course of 5 weeks. Each week, the workout will be announced on Wednesday (beginning March 6th). Everyone will have until the following Sunday at 5 p.m. PT to complete that week's workout and submit their score. You can have CrossFit Springfield validate your score OR you may film and submit your attempt from any gym, a garage, or park.
This portion of the Games IS FOR EVERYONE! Last year, 70+ CFS members participated! Whether you need a good challenge, a goal to hold you accountable, or just a reason to up your game here at CrossFit Springfield, don't miss this opportunity to participate in the open. No matter what your fitness level or goal, this is a great opportunity to force yourself into the uncomfortable, train at a higher level and raise your personal expectations.
Once again, CFS will be hosting weekly validation times where you will sign up for a time slot to perform the weekly Open WOD with a validating CF Springfield Coach. Here are the details…
WOD validations through CFS will be $50 for all 5 weeks OR $15 per each single WOD validation. Please understand that our main purpose of charging for validations is so that we will be able to compensate our coaches for their time and efforts. No, our coaches will not have to pay to have their WODs validated – this is a benefit of being a CFS coach.
In order to have your workout validated by CrossFit Springfield, you must sign up online and reserve your validation time slot through CFS's MindBody website (click on the "Mindbody" tab at the top of the page). Again, you may compete in the 2012 CF Games Open for the $20 Reebok CrossFit Games Open registration fee and are not required to have one of CFS's coaches validate your score, but in this case you will need to submit a video of your performance. If you choose this route, you will be fully responsible for your video submission and your scores will still count towards team CFS.
Please avoid video-taping your performance at high traffic times. We reserve the right to ask you to video later if CFS is packed. CFS group WODS, Learn to CrossFit classes, Bootcamps, Rowing classes and personal training will all take priority. Our coaches time is very valuable. You may not have a WOD validated by any CFS coach outside of these designated times:
Friday: 1pm-2pm
Saturday: 8am-9am & 12pm-2pm
Sunday: 12pm-2pm
There will be no exceptions made to this rule. If you cannot make a validation time, the option for video score submission is still at your disposal.
Please arrive and report to CFS 15 minutes prior to your time slot. If you are late, you will lose your slot for the week and may video tape your performance to maintain your participation in the Open. You will not be allowed to show up on gameday and use a time slot if you did not register in advance with us though MindBody Online.
We're extremely excited about this year's CF Games season and our greatest objective is to be organized and fair in the way that we go about competing as an affiliate. As your validating affiliate, we will strive to maintain the integrity of our sport by judging your performances in a fair and orderly fashion. We'll keep track of your scores and validate them on the 2013 CrossFit Games website to eliminate the need for video submission.
Once your score has been submitted to the Games site, you'll be able to find your rank, both worldwide and in the North Central Region. You get one point for each place (i.e. five points for 5th place) for each workout. Your overall score is the sum of all the workout scores, and lowest total points wins. Your scores will not only give you an Individual Ranking but will also contribute to the CrossFit Springfield Team. Individuals are divided between men and women, and Masters are divided by gender and age.
The individual athletes and teams that perform the best across the five Open workouts, in each of the 17 regions, will be invited to compete at the second stage of the Games, the Regionals. The top 20 Masters in each age and gender category will earn an automatic spot at the Games in July.
Good luck to all! Train hard and HAVE FUN:) 3, 2, 1, GO!!!